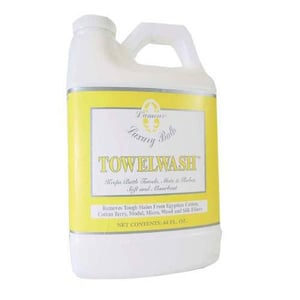 Safely launder bath towels, tubmats, bathroom rugs and bathrobes with the Towel Wash by Le Blanc. Formulated without the use of added softening agents or optical brighteners, which can damage fibers and render towels less absorbent. The Towel Wash will protect terry fibers from drying out, fading and discoloration, keeping your finest bathroom linens soft, strong and absorbent to the touch.
Reduces Fading and Discoloration
Free of Softening Agents and Optical Brighteners
Keeps Bathroom Linens Soft, Strong and Absorbent
By Le Blanc
Prices do not include shipping as this is a heavier item to ship. Call (209) 933-0441 or (209) 491-0931 for more details.